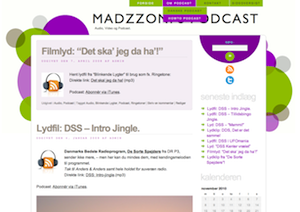 Update, Get the full version here!
You want a colorful and translation-ready WordPress 3.0+ theme based on almost all the handy functions from the default Twenty Ten WP theme? Well, Here it is!
The new 2010 FreeDream child theme is ready to go for Free, – released under the GNU license!
This Twenty Ten child theme is heavily based on the FreeDream theme HTML5 and CSS3 design presented by Dreamweaver Gratuit. (Nice work Caroline!)
The 2010 FreeDream Child theme for WordPress 3.0+ is stylish, customizable, and readable, with rounded corners – make it yours with a custom menu, and a background.
2010 FreeDream supports six widgetized areas (two in the sidebar, four in the footer) and featured images (thumbnails for gallery posts). It includes stylesheets for print and the admin Visual Editor, special styles for posts in the "Asides" and "Gallery" categories, and has an optional one-column page template that removes the sidebar.
The 2010 FreeDream child theme supports all Twenty Ten user interface language translations and is Crossbrowser compatible. ( but there is no support for rounded corners, created via CSS3 in MS IE 7/8.)
Se mere →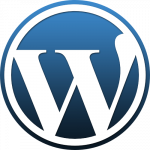 Ifølge denne artikel på WordPress.dk er den danske udgave af den nye WordPress Version 3.0 "Thelonious" lige på trapperne, – glæd dig til det, hvis du ikke allerede har stiftet bekendtskab med den nye engelske sprogede version, som nu er frit tilgængelig til download eller opgradering.
Version 3.0 er blevet til efter mere end 6 måneders hårdt arbejde fra 218 udviklere (tak for det!) og indeholder igen mange rettelser og forbedringer for brugeren af WordPress.
Du finder WP 3.0 kompatible danske temaer til din WordPress webside her!
Se video:

Kender du ikke WordPress endnu? – Så skynd dig at hente din frie version af verdens bedste udgivelsesplatform!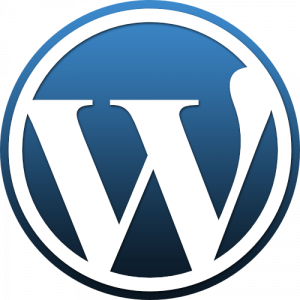 I'm happy to announce that the free WP Themes from here, are all testet ready to go with the new WordPress 3.0 Blog-software!
The new NeoClassical XL 1.1, the light 'n' bright Blogline-W2-3c, the simple NeoClassical 2R and the very black NeroClassical 1.1 Themes, are all compatible with the new fantastic WordPress 3.0 version.
Choose your free WordPress-Theme from here!
"Det ikke hvad NeoClassical-temaet kan gøre for dig, – men hvad DU kan gøre med NeoClassical!"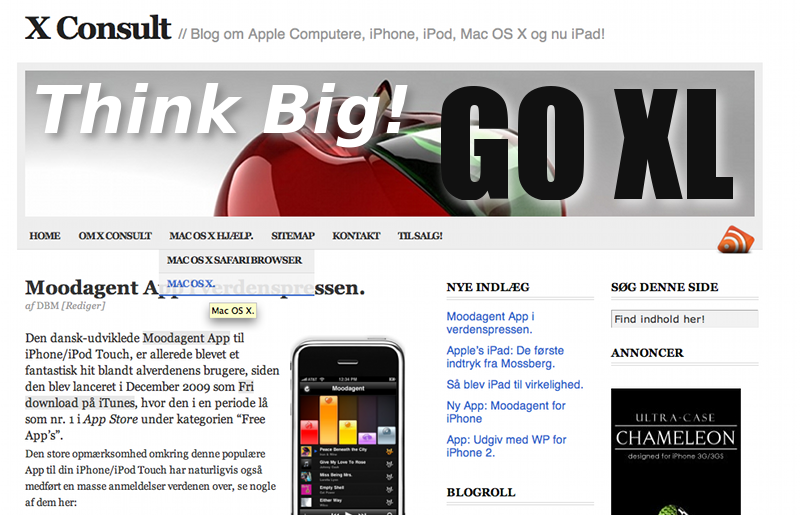 Det nye frie Neoclassical XL tema er en X-large version af det populære NeoClassical 1.1 2R tema til WordPress som nu er tilgængeligt komplet i en dansk version med horisontal Drop-down menu for dine statiske sider.
Med denne frie version får du store roterende Header billeder (900x180px), større overskrifter, samt rigeligt plads til at præsenterer en 480px bred Youtube-video i indholdsfeltet på din side.
Hent og læs mere om NeoClassical XL på dansk.
"It's Not what the NeoClassical theme can do for You, – It's all about what You can do with the NeoClassical theme!"

Despite the fact, that the popular Neoclassical 1.1 theme have some years on it's back now, – it's still a awesome, easy-to-customize and SEO friendly theme for your WordPress website,- if you still like to get your own hands under the bonnet and do some HTML- and CSS coding yourself.
The New NeoClassical XL is my recent customization of this theme, an eXtra Large Edition of The original, with Horisontal Drop-Down Menubar and enough space to fit in a 480px widescreen Youtube video in the content area. Se mere →
Put your adsense 468x60 banner here!