WP Theme: The Dark Site of…
Update: The NeroClassical 1.1 Theme is compatible with WordPress Version 2.9+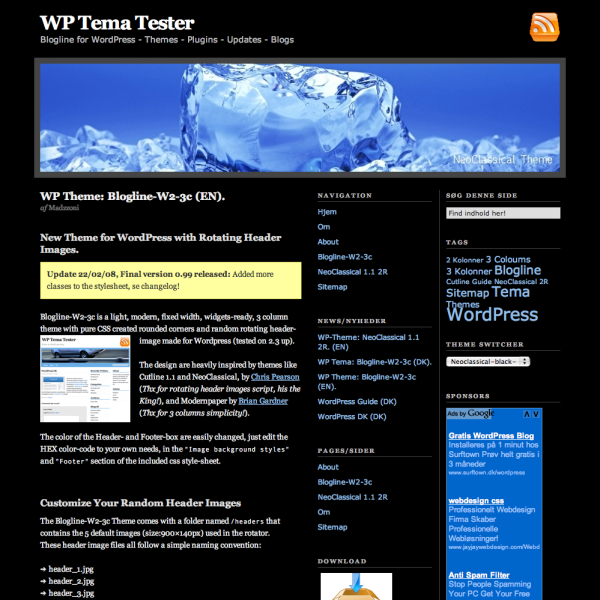 Yeah!… You seen it before, a very dark template made for WordPress, – but this new "beast", benamed NeroClassical 1.1, is deep down under the black surface, based on the elegant and Search Engine Optimized, free NeoClassical 1.1 theme, from Chris Pearson, with huge Random Rotating Header Images.
See it in action, click here or use the "Theme Switcher" in the sidebar. Like the NeoClassical 2R version, all custumizations from the original template are made through the included custom.css stylesheet and by adding extra graphics to the /images folder, which means, that you can savely do future updates of this theme without breaking the design.

What's the difference?
NeroClassical 1.1 is a free 3 column theme with 2 sidebars at the right side. Besides the visual changes, you'll find the following features in the NeroClassical customization.
Moved the default Search-box outside the "Widget-function" in the sidebar.php – which means you don't need to add the "ugly" Search-box from the Widgets-collection if you use the Widget-function in WordPress. The default Search-box stay on top in the right sidebar.
Automatic addition of your page-links in the "Navigation section" of the sidebar. No need to manually edit the nav_menu.php in this version.
Don't do a upgrade of an excisting NeoClassical-based theme with these files, i'll recommend you to opload the entire NeroClassical-folder to your /themes folder and activate the theme the usual way, instead of just overwrite your excisting NeoClassical-files/folders, – that's just to avoid things to be messed up!

Support?
To find out "How To Customize Your Random Header Images" and other support stuff, please Go here!
Go ahead and enjoy it! Please report any bugs.
Download: NeroClassical 1.1 – Ver. 1.1 (English.)
Last update: 25. March 2008.