New Theme for WordPress with Rotating Header Images.
Update: The Blogline-W2-3c Theme is compatible with WordPress Version 2.5
Blogline-W2-3c is a light, modern, fixed width, widgets-ready, 3 column theme with pure CSS created rounded corners and random rotating header-image made for WordPress (tested on 2.3 up).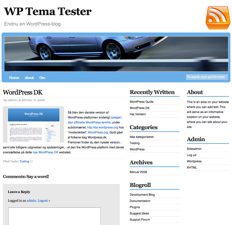 The design are heavily inspired by themes like Cutline 1.1 and NeoClassical, by Chris Pearson (Thx for rotating header images script, his the King!), and Modernpaper by Brian Gardner (Thx for 3 columns simplicity!).
The color of the Header- and Footer-box are easily changed, just edit the HEX color-code to your own needs, in the "Image background styles" and "Footer" section of the included css style-sheet.


Customize Your Random Header Images
The Blogline-W2-3c Theme comes with a folder named /headers that contains the 5 default images (size:900x140px) used in the rotator.
These header image files all follow a simple naming convention:
header_1.jpg
header_2.jpg
header_3.jpg
header_4.jpg
header_5.jpg
For changing the images, simply upload and overwrite the excisting files with your own images. It's important these images are 900x140px in size and named as above.
The Random Rotating Header Image function, is original developed by Chris Pearson. Please, click here for more information about how to customize your Random Header Images.

Highlight your notes!
I also adapted the "ad_a_note-effect_to_the_content" from Chris's NeoClassico template, by adding an extra "note-class" to the stylesheet. This is a handy feature:
This is how you use it in the page-content:
Put this tag (p class="note")...your text...(/p) around the text you want to highlight. (Change the ( ) to < > in the HTML-tag.)
That's All!
Blogline-W2-3c theme are tested for compliance on varios platforms with Safari/Camino/Firefox/Opera/Shiira and MSIE 6.0 / 7.0 webbrowsers.
Use this theme as U like! Please report any bugs in the comments field.
Download: Blogline-W2-3c EN Ver. 0.99. (Final)
Last update: 3. March 2008.
( -If you use Beta ver. 0.9.3 you only need to update stylesheet.php from 0.99 Final folder.)
(For danish version, click here)
This Theme is under GPL License.
Comments: Say a word!